Coronavirus Disease 2019 (COVID-19) is a respiratory disease caused by the SARS-CoV-2 virus. Primary symptoms of COVID-19 are cough, fever, fatigue and sore throat. Severe cases include persistent high fever, shortness of breath and pneumonia. Those most at risk of becoming seriously ill are people over age 60 and people with pre-existing conditions such as cancer, diabetes and heart disease. COVID-19 is transmitted through close contact with an infected person by an infected person coughing or sneezing and by touching contaminated objects or surfaces and then touching your mouth, nose or eyes.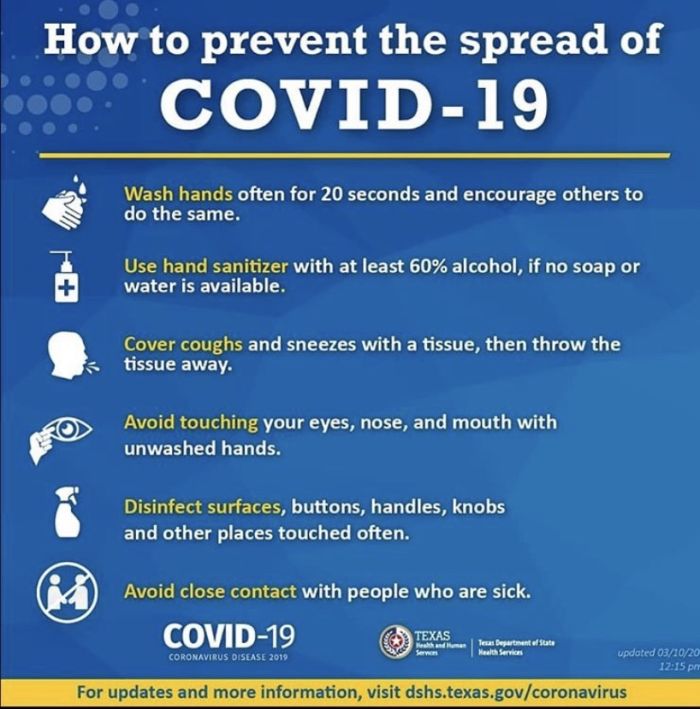 As of August 25th, 2020
Face masks will be required in all Tarrant County businesses and at outdoor gatherings until November 30th, 2020.
Face coverings include masks, scarves, bandannas or a handkerchief. And residents are asked to maintain social distancing of at least six feet from others when not in their own homes.
Gov. Greg Abbott announced Sept 17th that most of Texas will be able to loosen some coronavirus restrictions, including letting many businesses increase their capacity to 75%, as soon as Monday, September 19th.
Retail stores, restaurants and office buildings, which have been open at 50% capacity, will be permitted to expand to 75% capacity. Hospitals will be allowed to offer elective procedures again and nursing homes can reopen for visitations under certain standards.
The new reopening stage applies to 19 of the state's 22 hospital regions. The three hospital regions excluded are in the Rio Grande Valley, Laredo and Victoria. Abbott said those regions' hospitalizations are still "in the danger zone," which he defined as places where coronavirus patients make up 15% or more of all hospitalizations.
Gov. Greg Abbott's Report to Open Texas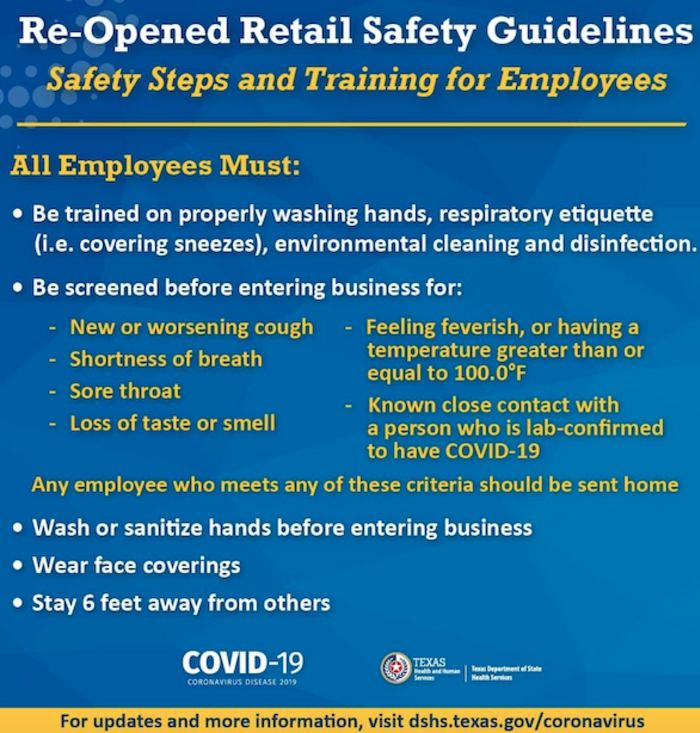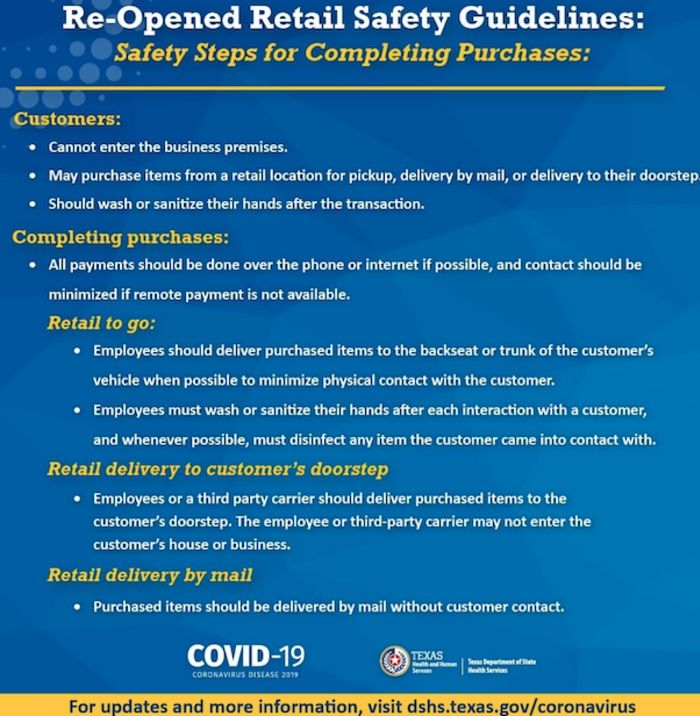 Texans who are at high risk or live with high-risk people — such as people older than 65 and those who are immunocompromised — can still receive unemployment benefits. Those who have been diagnosed with COVID-19, are in a 14-day quarantine or live in a household with someone who has tested positive for the coronavirus can also continue receiving benefits.
And people who don't have access to child care because schools and daycares are closed to everyone but the children of essential workers can also receive benefits.
"Any other situation will be subject to a case by case review by TWC [Texas Workforce Commission] based on individual circumstances," Click on the button below for more information
OSHA - 1-800-321- OSHA or www.OSHA.gov Department of Labor Fort Worth - (817) 861-2150 To file a charge of discrimination you can call the EEOC at 1-800-669-4000 Texas Workforce Commission Civil Rights Division at 1-888-452-4778
If you believe your rights under the FMLA have been denied, contact the Wage and Hour Division of the U.S. Department of Labor. National AFL-CIO: https://aflcio.org/covid-19 Texas AFL-CIO: https://www.texasaflcio.org Tarrant AFL-CIO: https://www.tcclc.org *If you have questions over advocating for yourself in the workplace, contact: angi@tcclc.org You can also directly contact J. W. Reed UI Field Specialist, UI Policy & Support Texas Workforce Commission at 817-420-1812 or jesse.reed@twc.state.tx.us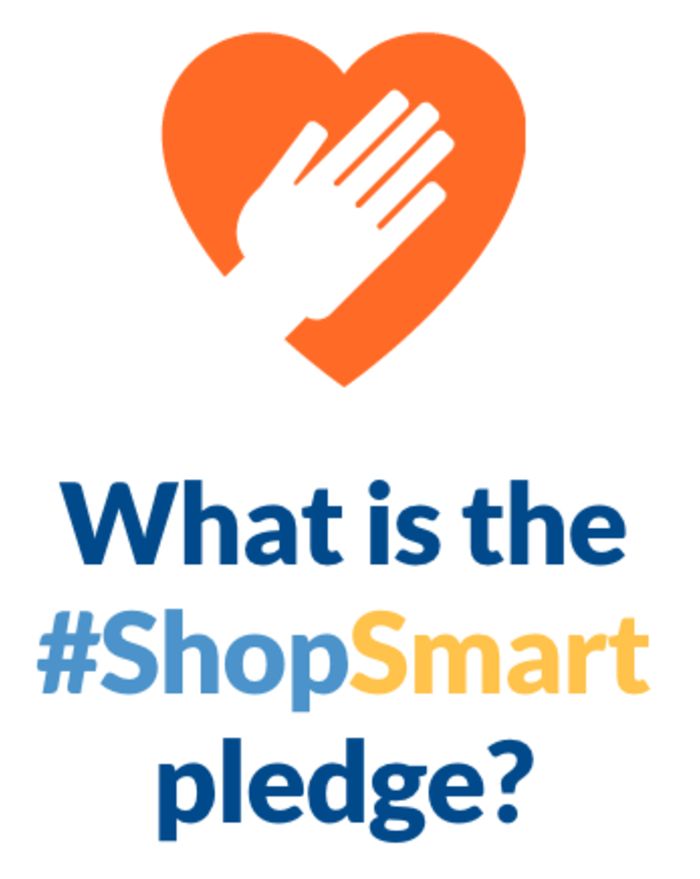 1. Wear a mask inside the store
Always wear a mask (whether homemade or store-bought) when you shop that covers your nose and mouth.
2. Always keep 6 feet or more
Whether you're standing in line or asking a worker for assistance, keep 6ft between yourself and others.
3. Never toss gloves on the floor!
Dispose of any used gloves or wipes in a trash can, never on the ground outside or left behind in your shopping cart.
Contact: Anthonyelmo@ufcw1000.org
*For testing questions, please follow up with Dr. Samad Khan, M.D. at WellHeath: 

drkhan@wellhealth.studio
In both Fort Worth and Arlington, tests are by appointment only and people will stay in their cars for the testing. In Fort Worth, tests are available from 9 a.m.-5 p.m. seven days a week, and in Arlington, they are available from 9 a.m.-4 p.m. Monday through Friday.
In Fort Worth, testing will be conducted at 8600 Camp Bowie West Blvd., where Walgreens pharmacists will oversee patients' self-administration of a rapid COVID-19 test.
Arlington Parks Mall, 3811 S Cooper St, Arlington, TX 76015 will host the first city-operated testing center. The center is expected to administer 100 tests a day initially and to increase the number over time. Those with positive test results will be called immediately, negative test results will receive their results by mail.
To schedule an appointment in Arlington, individuals must first visit arlingtontx.gov/coronavirus to complete an assessment to determine eligibility. Click on the image below for more information.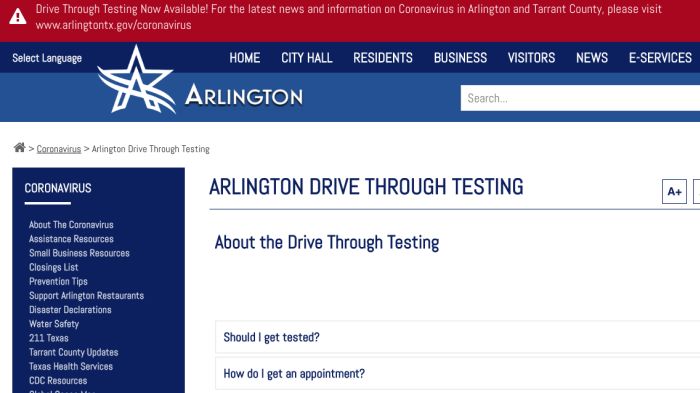 In Fort Worth, testing will be conducted at 8600 Camp Bowie West Blvd., where Walgreens pharmacists will oversee patients' self-administration of a rapid COVID-19 test. Click on the link below for more details.

Urgent Care for Kids' locations in Tarrant County include:
Urgent Care for Kids Alliance, 3400 Texas Sage Trail, Fort Worth, 76177 Weekdays: 3-9 p.m., weekends: 9 a.m.-5 p.m.
Urgent Care for Kids Hulen, 3000 S Hulen St., No. 180, Fort Worth, 76109 Weekdays: 9a.m. - 3 p.m., weekends: 9 a.m.-5 p.m.
Urgent Care for Kids Mansfield, 2251 Matlock Rd., No. 103, Mansfield, 76063 Weekdays: 9a.m. - 3 p.m., weekends: 9 a.m.-5 p.m.
Urgent Care for Kids Arlington, 6109 South Cooper St., Arlington, 76001 Weekdays: 3-9 p.m., weekends: 9 a.m.-5 p.m.
For more information, click on the image below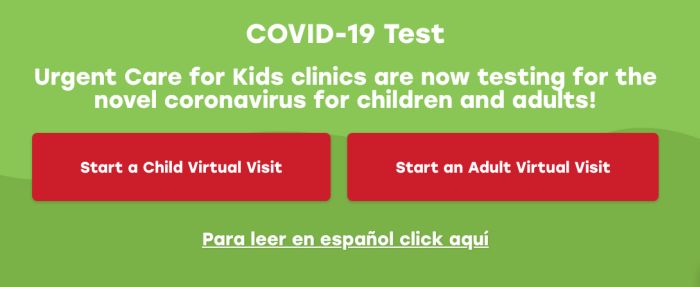 Texas Governor Greg Abbott amended his Executive Order, calling for all schools to remain closed in the state of Texas until May 4th. STAAR Testing is canceled for the school year, and online classes will resume. Find your school district's updates and online learning resources by clicking below.
With this public health pandemic, school districts have come together to provide curbside free healthy-to-go meals for students. By clicking on the image below you can find the schools and hours in which breakfast and lunch to-go meals will be provided, most schools offer this service from 11 am-1 pm on the weekdays.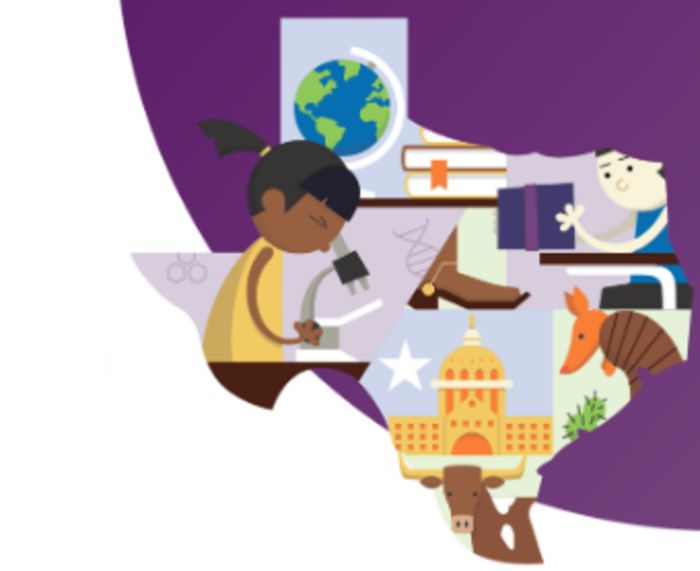 Find free school meal pick-up locations in Tarrant County
Thanks to local efforts in the community, the Tarrant Area Foodbank has a mobile pantry with pickup locations and distribution times. If you need food during this public health crisis, click on the box below to see the nearest locations to you to access food.
Tarrant Area Foodbank Schedule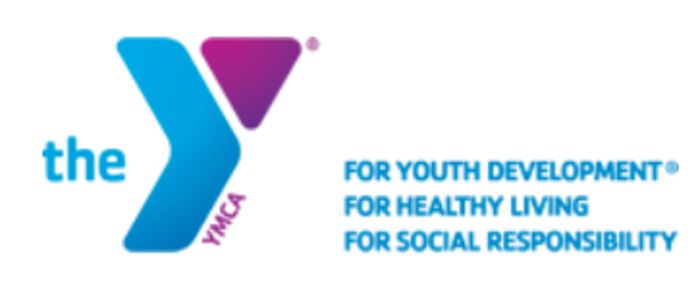 Meals are available for pick up 5 days a week, Monday through Friday, from
4 p.m. to 6 p.m.
The meals are available at 9 locations:
• Amon G. Carter, Jr. Downtown YMCA, 512 Lamar Street, Fort Worth, TX 76102
• Community Center YMCA, 1899 Winscott Road, Benbrook, TX 76126
• YMCA, 1500 Sandy Lane, Fort Worth, TX 76112
• William M. McDonald YMCA, 2701 Moresby Street, Fort Worth, TX 76105
• YMCA Sports Complex, 4320 Altamesa Blvd, Fort Worth, TX 76133
• Hood County YMCA, 1475 James Road, Granbury, TX 76049
• Joshua Community YMCA, 1009 Joshua Station, Blvd Joshua, TX 76058
• Elkins Elementary School, 7250 School Road, Fort Worth, TX 76179
• Remington Point Elementary School, 6000 Old Decatur Road, Fort Worth, TX
76179
The YMCA of Metropolitan Fort Worth branches are temporarily closed for traditional
health and wellness activities due to the COVID-19 public health mandates by city,
county and state authorities, but the facilities now support the community by
providing for meals for families with children 18 years or younger.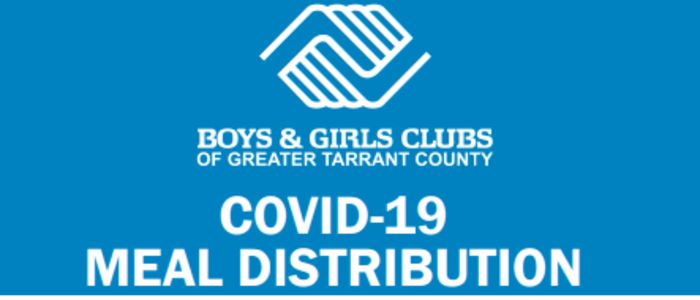 Boys & Girls Clubs of Greater Tarrant County
will be distributing meals, food and snacks!
Distribution Locations
East Branch: 2011 Wynn Terrace, Arlington, TX, 76010
Eastside Branch: 4651 Ramey Ave, Fort Worth, TX, 76105
Main Branch: 608 North Elm St., Arlington, TX, 76011
All Are Welcome!
Meals available to any child ages 18 years or younger
(membership not required)
Meals will be distributed as long as food supplies last
Each car is eligible to receive individually packaged
meals and snacks as available to the organization
Weekly at-home learning resources provided with each
meal
COVID-19 Supplemental Nutrition Program The new COVID-19 SNP program is a collaborative effort between Meals On Wheels of Tarrant County, United Way and Area Agency on Aging of Tarrant County, Tarrant County, Tarrant Area Food Bank, and Catholic Charities Fort Worth. This is an enormous undertaking made possible by the support and funding from the stakeholders mentioned above.
Client Eligibility – the new program focuses on food-insecure seniors residing in Tarrant County. To be considered for this program, a person must:
Reside in Tarrant County Be age 60 or over Be the spouse of a person age 60 or over Be food insecure This program is intended to serve seniors who do not have access to food during the COVID-19 crisis. This may mean that the person is following recommendations to stay at home during this crisis and is just not able to get to the grocery store. It might mean that the person normally has a family member who provides assistance and that care provider is either staying at home or is temporarily unemployed, keeping them from providing the needed assistance. Basically, you can think of eligibility in this way: People age 60 and over who say "If I just had food, I could cook it myself."
Although other agencies are involved, this is a Meals On Wheels of Tarrant County program. Referrals will come in through the mealsonwheels.org website referral form or via a phone call to 817-336-0912.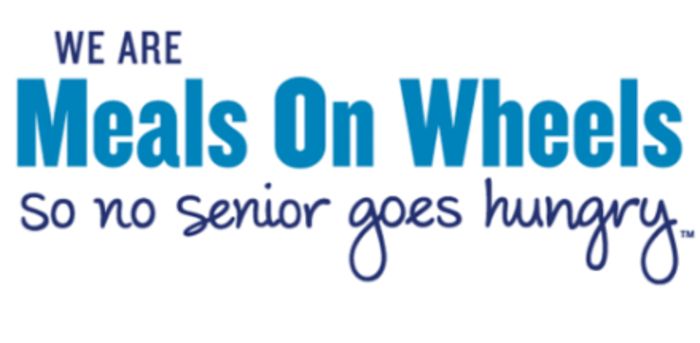 The Small Business Association (SBA) has designated COVID-19 as a qualifying event for the provision of Economic Injury Disaster Loans for businesses and private non-profits in affected communities. If a business has suffered a substantial economic injury and is a specific type of business located in a declared disaster area, that business may be eligible for an SBA Economic Injury Disaster Loan.
In response to the Coronavirus (COVID-19) pandemic, small business owners in all U.S. states, Washington D.C., and territories are eligible to apply for an Economic Injury Disaster Loan advance of up to $10,000.
This advance will provide economic relief to businesses that are currently experiencing a temporary loss of revenue. Funds will be made available within three days of a successful application. This loan advance will not have to be repaid.
For additional resources such as food, health, housing and more near you click the image below and search "COVID-19" and enter your zip code.
You can also call 877-541-7905 to connect with someone.
Dial 6 for COVID-19
Dial 2-1-1 and select option 2 for SNAP, TANF, Medicaid or CHIP
Dial 1 for food, utility, senior services, and rent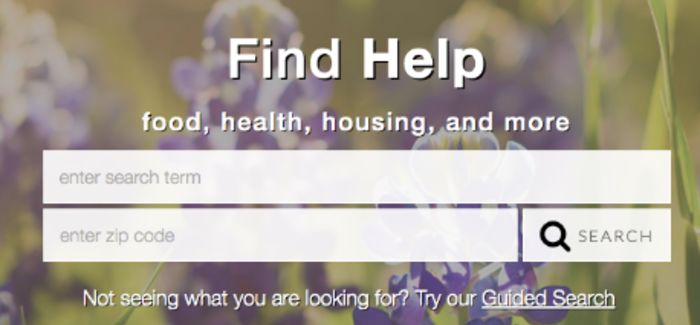 With the economic consequences of this public health crisis, provided is information for the property and landlord-tenant resources. The Supreme Court of Texas recently issued an emergency order to temporarily stop most evictions to help during this time. Follow the box below for more information during COVID-19 on mortgage payments and foreclosure, utilities, help with internet access, rights for tenants with health issues, and more.
FAQ's on housing during COVID-19
An extensive guide for everything you need to know about Coronavirus updates, best prevention practices, and what you need to know to protect yourself from infection.